ABOUT ME
ABOUT SITE
ANDY | HE/HIM | QUEER | 199X
WORLD'S #2 KOMUBAK ENTHUSIAST
It's me Wasongo! The one dedicated KomuBak artist. If you've seen horny komubaks out in the wild, I'm proud to say they're probably mine.
What in the fresh hell is KomuBak you ask? It's the ship name for Komui Lee and Bak Chang, two minor characters from my favorite manga "D.Gray-man". If you came here expecting more varied fanart you're outta luck. My art is 99% KomuBak brainrot, sorry about that.
World's #2? The place for World's #1 KomuBak Enthusiast belongs to my late best friend Eden, who wrote the best komubak fics in the entire world.
I go by WASONGO online. It's a nickname that I was given by someone very dear to me.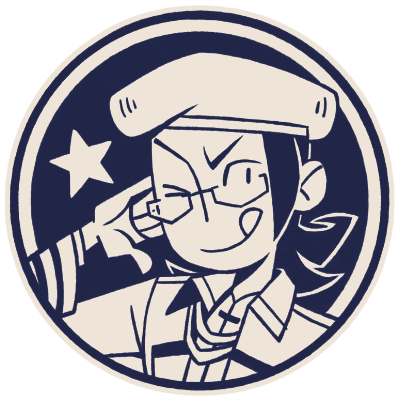 What? You still want to know more?
I live at the equatorial line way up in the mountains where it's a little harder to breathe but where water boils really quick! For some reason every time I try to make agar agar jellies they come out bad... I think it must be the altitude.
My native language is Spanish, but I am constantly forgetting words and embarrassing myself when I speak to people.
I love doing crafts but I rarely have time to do so. I have a small collection of succulents and cacti, and a large collection of scarves that I almost never get to wear. (That won't stop me from buying more though)
I have 2 cats and a dog, but I've always dreamed of having a bird. I don't think I'll ever get one though as I don't think I meet the requirements of being a responsible bird owner. I fill the bird shaped hole in my heart by collecting bird shaped things.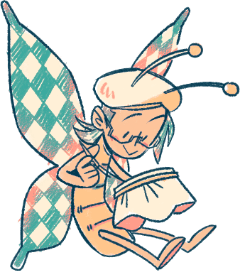 Currently:
Watching: Monster, Ousama Ranking
Reading: D.Gray-man, Dai Dark, Dungeon Meshi, GetBackers
Playing: Earthbound, NEO The World Ends With You
Working on: My website!, KomuBak Fanbook
Recently Finished:
Watching: ACCA: 13-ku Kansatsu-ka, Tales of Zestiria the X
Reading: Golden Kamuy, Trigun
Playing: Yuppie Psycho, Super Metroid, Paper Mario: Origami King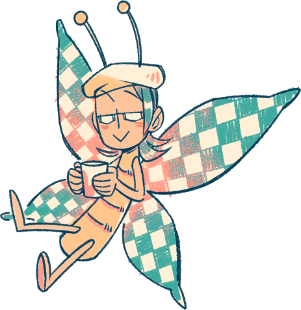 Tools of the Trade
Hardware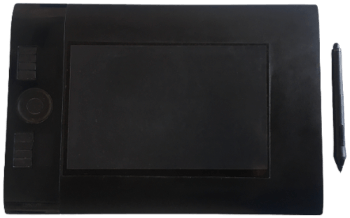 An old and dusty intuos4 with some ramen stains on it. I pasted a thin laminate sheet over the drawing area to lower friction with my pen nib since the original texture felt like sandpaper. Haven't had to change a SINGLE nib since. The pen is new cause the old one was dying after like 10 years? of use.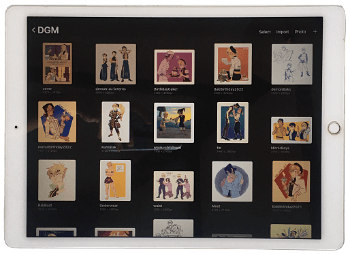 A first generation 12.9 inch iPad pro, also with some ramen stains on it. The glass screen protector is a bit chipped in some areas. I hope I don't have to replace it any time soon cause the newer models are expensive AF...
All my homies hate apple.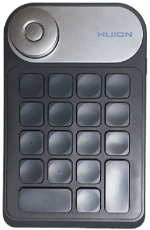 A huion mini keydial to which I have assigned some handy shortcuts to facilitate my drawing process on PC. Even so, I still get tripped up sometimes... A few keys get stuck occasionally which is mildly annoying.
These are my drawing tools!
Hover over them for a bit of info on each.
Software

Procreate

Clip Studio Paint

Paint Tool Sai

Affinity Photo

Kdenlive
Favorite Things
top of the crop
Anime
Mob Psycho 100
Hunter x Hunter
Haikyuu!!
Osomatsu-san
One-Punch Man S1
Tengen Toppa Gurren Lagann
Manga
D.Gray-man
Mob Psycho 100
Golden Kamuy
Dorohedoro
One-Punch Man
Shaman King
Games
LoZ: Wind Waker
Metal Gear Solid 3
Golden Sun
.hack//G.U.
Final Fantasy 12
The World Ends With You
Dramatical Murder (BL VN)
Super Metroid
Other things I like
Anime
Great Pretender
Kimetsu no Yaiba
.hack//SIGN
Yowamushi Pedal
Kuroko no Basket
Tiger & Bunny S1
GetBackers
Cardcaptor Sakura
Odd Taxi
Zankyou no Terror
Ouran High School Host Club
Devilman Crybaby
Kekkai Sensen
Doukyuusei
Death Parade
Violet Evergarden
Code Geass
Manga
Dai Dark
The Promised Neverland
Dungeon Meshi
Tsubasa Reservoir Chronicle
The Mythical Detective Loki Ragnarok
Pandora Hearts
Death Note
Yu-Gi-Oh!
Beastars
Vassalord
Games
Undertale & Delta Rune
LoZ: All
MGS: All
Luigi's Mansion
.hack//IMOQ
Portal 1 & 2
The Last of Us
Death Stranding
Octopath Traveler
Yuppie Psycho
No Thank You!!! (BL VN)
Jak and Daxter
Spyro the Dragon
Stardew Valley
Pokemon ORAS
Journey
The Last Guardian
Ace Attorney Trilogy
Night in the Woods
Assassin's Creed
Kingdom Hearts 1 & 2
Super Mario Sunshine
Final Fantasy 15
Dragon Age: All
Fire Emblem: Awakening
Little Nightmares
Knights and Bikes
Dark Cloud
Ape Escape
Music
Ásgeir
System of a Down
Gorillaz
The Gazette
Yuki Kajiura
SIAMES
Take That
Low Roar
Akeboshi
Ólafur Arnalds
Of Monsters and Men
Caravan Palace
Delta Heavy
Animation
Paprika
Into the Spider-Verse
The Owl House
Ed, Edd, and Eddie
Detentionaire
Puss in Boots: The Last Wish
Spirited Away
Bojack Horseman
ONI: Thunder God's Tale
Rilakkuma and Kaoru
Rick and Morty
The Lion King
Chicken Run
ParaNorman
Food
Sopa de Bola de Verde
French Fries
Empanada de Viento
Veggie Gyoza
Avocado Soup
Locro de Papa
Soft Boiled Eggs
Paprika Flavored Chips
Dulce de Babaco
Salted Caramel Ice-cream
Tofu Pad Thai
Matcha & Chai Lattes
Tiramisu
Avocado + Egg Sandwich
Shin Ramyun
Bean Chimichangas
WHY THE HELL DID I MAKE THIS?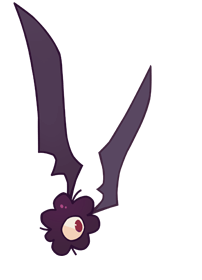 As you have probably already seen by navigating around, this webbed site is a self-indulgent space for me to play around with. I have always enjoyed theme customization and though I never really had a website when I was in my teens, I loved to play around with early dreamweaver making (very bad) website layouts, and I had a ton of fun customizing my profile themes on GaiaOnline and Livejournal. This in part is why I am still fond of Tumblr as a platform where you can fully customize your blog, even though in recent changes they seem to be favoring a more uniform look by having themes be optional (bitch I swear to god this is that last thing you have going on for you).
Social media has done a number on my brain though, so in an attempt to steer away from needing instant validation to feel good about my art I thought I might give making a site a shot back in 2022, after being inspired by an artist I followed doing the same. And so here you are visiting my site, and here I am having made said site.
PEACH BACKGROUND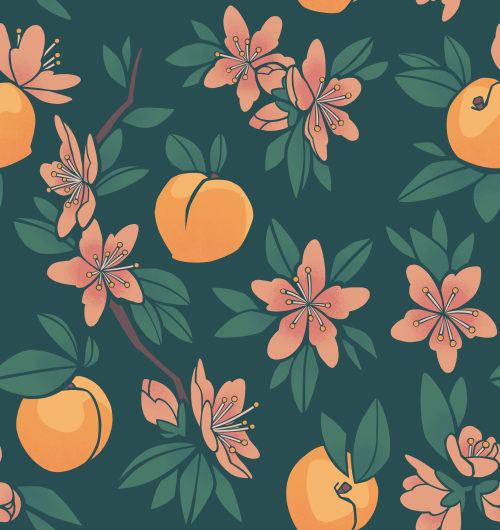 After deciding I wanted to overhaul the palette and look of my site towards the end of 2022, I decided going in a direction that would honor my late best friend Eden as she was the driving force of my creativity and inspiration for the 5 years that I knew her.
The peach pattern I use for the background of my site is a design I initially drew to have printed on a headscarf for her, as she was going through chemo treatments at the time. I could make up a story about the profound symbolism behind the design, but the truth is she wanted something that was symbolic of Bak (one of her favorite D.Gray-man characters). She wanted something SUBTLE enough to wear however, so we decided on peaches because it's the fruit that we mostly associated with him. I probably don't need to tell you why, if you've looked through my fanart of him (spoiler: it's ass). Sadly, I never got the chance to finish the pattern and have it printed before she passed away, and so it sat in my art folder as a draft for nearly three years until I saw the opportunity to display it in her memory here on my site.
I hope you have been moved to tears knowing that this design that your eyeballs have observed all over my website is a subtle nod to Bak's juicy ass! I know it would have made Eden laugh to display subliminal Bak butt imagery to unsuspecting visitors. Though it is a very meaningful design to me, I have made it available for use over at my YOU page.
FIRST LAYOUT
This is a screenshot of the first layout I made for my site. It was heavily edited from a free template I found online. It hasn't changed drastically since then, but I have learned a ton of new things that allowed me to ditch the old code to completely remake my new layout from scratch.