ABOUT ME
ANDY | HE/HIM | QUEER | 1991
It's me Wasongo! I'm the one dedicated KomuBak artist. If you've seen horny komubaks out in the wild they're problaby mine.
What in the fresh hell is KomuBak you ask? It's the ship name for Komui Lee and Bak Chang, two minor characters from my favorite manga "D.Gray-man". If you came here expecting more gen DGM art you're outta luck. My art is 99% KomuBak brainrot, sorry about that.
But hey, if you are into that maybe check out my late best friend Eden's fanfics. She was and continues to be the reason I fell in love with komubak in the first place. Even if she's not with us anymore, if you read her works and enjoy them, I'd love if you left her a comment. You can find her works HERE.
I go by WASONGO on all my social media. It's a nickname that was given to me by someone very dear to me.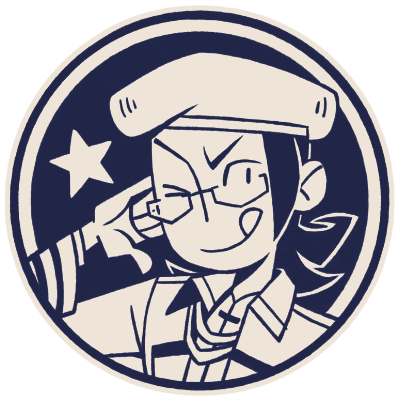 Favorite Things
top of the crop
Anime
Mob Psycho 100
Hunter x Hunter
Haikyuu!!
Osomatsu-san
One-Punch Man S1
Tengen Toppa Gurren Lagann
Manga
D.Gray-man
Mob Psycho 100
Golden Kamuy
Dorohedoro
Shaman King
One-Punch Man
Games
LoZ: Wind Waker
Metal Gear Solid 3
Golden Sun
.hack//G.U.
Final Fantasy 12
The World Ends With You
Dramatical Murder (BL VN)
Super Metroid
Other things I've liked
Anime
Great Pretender
Kimetsu no Yaiba
.hack//SIGN
Yowamushi Pedal
Kuroko no Basket
Tiger & Bunny S1
Cardcaptor Sakura
Odd Taxi
Zankyou no Terror
Ouran High School Host Club
Devilman Crybaby
Kekkai Sensen
Doukyuusei
Death Parade
Violet Evergarden
Code Geass
GetBackers
Manga
Dai Dark
The Promised Neverland
Dungeon Meshi
Tsubasa Reservoir Chronicle
The Mythical Detective Loki Ragnarok
Pandora Hearts
Death Note
Yu-Gi-Oh!
Beastars
Vassalord
Games
Undertale & Delta Rune
LoZ: All
MGS: All
.hack//IMOQ
Portal 1 & 2
Luigi's Mansion
The Last of Us
Death Stranding
Octopath Traveler
Yuppie Psycho
No Thank You!!! (BL VN)
Jak and Daxter
Spyro the Dragon
Stardew Valley
Pokemon ORAS
Journey
The Last Guardian
Ace Attorney Trilogy
Night in the Woods
Assassin's Creed
Kingdom Hearts 1 & 2
Super Mario Sunshine
Final Fantasy 15
Dragon Age: All
Fire Emblem: Awakening
Little Nightmares
Knights and Bikes
Dark Cloud
Ape Escape
Music
Ásgeir
Ólafur Arnalds
System of a Down
Gorillaz
The Gazette
Yuki Kajiura
Red Hot Chili Peppers
SIAMES
Take That
Akeboshi
Of Monsters and Men
Caravan Palace
Delta Heavy
Animation
Paprika
Into the Spider-Verse
Puss in Boots: The Last Wish
Spirited Away
The Lion King
Chicken Run
Bojack Horseman
ONI: Thunder God's Tale
ParaNorman
Rilakkuma and Kaoru
Rick and Morty